Calling Female Vets and Pet Business Owners
Last call for entries in the 2023 Australian Women's Small Business Champion Awards
The period for online submissions to
2023 Australian Women's Small Business Champion Awards
will be closing soon: on Friday 21 July.
A prestigious and comprehensive programme that celebrates the growing number of female small business owners from across the country, this year's Australian Women's Small Business Champion Awards has thus far seen thousands of entries and – unlike other awards programmes – online entry is absolutely FREE.
According to Australian Government data, female small business owners currently represent more than one-third of all small businesses, and 2022-released data by the Australian Bureau of Statistics shows a 46 per cent jump in women business owners during the past two decades.
From dog walkers, farmers and mechanics to compounding chemists and environmentalists, the

Australian Women's Small Business Champion Awards

is arguably among the most diverse in terms of the breadth of represented industries and sectors, with more than 55 small business categories and four individual categories.
"There's no doubting the rising success of female small business owners from all corners of this country," says Steve Loe, Awards Founder and Managing Director of Precedent Productions, which coordinates the Australian Women's Small Business Champion Awards.
"Precedent Productions has been running the Australian Small Business Champion Awards since 1999 but especially during the past few years, we've noticed such a steep rise in the success of female-owned small businesses that we deemed it appropriate to have a standalone awards programme that showcases and honours the truly impressive work of women in small business," adds Mr Loe.
Seasoned business awards judge, Jo Buchanan who is also the COO of Castaway Forecasting, says awards can be highly-lucrative, especially to small businesses, despite the time and effort – and in some cases, costs – associated with application processes.
"An award from a credible source can help to signify that a small business has 'arrived' and can also really work wonders in terms of boosting morale," says Ms Buchanan.
"Telling your customers or clients how great your business is simply pales in comparison to independent, third party endorsement. Business awards hold huge marketing power, which can ultimately boost your bottom line.
"It's safe to presume that the vast majority of Australian women in small business would be time-poor and so, the time and effort required for a quality award application can be initially off-putting; however, the long-term benefits can be simply priceless," adds Ms Buchanan.
Expert Top Tips for submitting a winning business award application
1. Review the criteria and eligibility guidelines. Before putting any work into the application, ensure you are actually within the rules of entry. This also puts you in the right mindset to highlight your winning qualities in-keeping with the judging criteria
2. Answer all the questions. A missed question is like a missed element on your food plate; it's typically disappointing.
3. Don't hide your financials. Award judges are bound by confidentiality and most have run businesses themselves so understand and can see through your numbers. Sometimes it's the financials that differentiate one business from others in the running.
4. Spill the tea. Don't shy away from explaining the challenges of your business journey. It's overcoming the challenges that often results in a business's biggest successes.
5. Don't worry about the occasional spelling mistake. You aren't penalised for it and the judges can see through it.
6. Have fun with your application. Be creative and use humour where appropriate. It will help you to stand-out as memorable.
7. Back yourself. If you have poured your heart and soul into your business, but think you are still unworthy of an award, apply anyway if you're within the rules of eligibility. If your small business serves a community and the families of your employees and you have some learnings to tell, you ARE good enough!
8. Do all you can to attend the main event. Such events are excellent for networking and enjoy the praise!
Created and managed by Precedent Productions – a small business in its own right – the

2023 Australian Women's Small Business Champion Awards

will culminate in a National Presentation Evening Gala Event to be hosted by popular Australian broadcaster, Deborah Knight, and held on Saturday 23 September 2023 at the new Western Sydney Conference Centre at Penrith in NSW.
Finalists of the 2023 Australian Women's Small Business Champion Awards will be notified during August.
For more information and to submit an entry form before the 21 July 2023 closing date, visit:
womensbusinesschampions.com.au
.
Pet Insurance Australia offering access to VetChat
Pet Insurance Australia (PIA) has improved the VetChat offer for their policyholders. Pet Insurance Australian customers can now take advantage of up to four monthly VetChat consults from experienced Australian veterinarians.
"At Pet Insurance Australia, the health and wellbeing of your pet is our prime focus, and we're always looking for ways to make it easier for you to care for your beloved pet," says Nadia Crighton, Pet Insurance Australia spokesperson. "We've partnered with VetChat, so our customers can get complimentary access to trusted vet care anytime, anywhere."
VetChat connects Australian pet owners with an experienced Australian registered vet to allow quick consultations – within minutes via online chat or a video call.
"This service is proving to be vital for many Australian pet owners when it comes to seeking professional vet help quickly for their companion animals," Crighton says. "Whether it's providing vet advice, getting at-home treatment plans, or confirming if you need to visit a vet in person, VetChat can offer peace of mind knowing pet owners can get professional veterinary advice when they need it the most."
Pet Insurance Australia customers can now get access to a VetChat consult membership across their current policy period, with up to four monthly VetChat consults. Customers can register with VetChat to access the consults from the day the policy starts.
"This service is significant for all pet owners," Crighton says.
"Having a vet at the click of a button for quick, concise, and professional vet advice can allow pet owners to seek out additional help if they are not sure about their pet's condition."
This can be particularly important for communities currently experiencing high waiting times or minimal access to veterinary care for their feline friends or canine companions.
"Making it super easy for our clients to gain expert vet advice for their pet's health is very important to Pet Insurance Australia," Crighton says. "Services such as these allow many Australians to access experienced vet advice that could be a lifesaver."
Offering the service seven days a week, 24hrs a day, also gives Pet Insurance Australia customers access to professional vet advice any time of the day or night.
"This can be so important for pet owners, particularly if you are concerned about your pet's health after hours," Crighton says. "Gaining the information of the possible seriousness of a condition and if you need to head into an emergency hospital."
VetChat allows Pet Insurance Australia customers access to vets if the client's regular vet is unavailable while providing clarity or the urgency of the next steps. Giving pet owners an understanding of the health condition and offering expert vet advice and triage within minutes.
Register for VetChat at
petinsuranceaustralia.vetchat.com.au/signup
to access your complimentary VetChat consult membership during the current policy period.
February 15, 2023
Refuelling animal charities with passion and digital expertise, the secret to success for business and community
Many companies have found great success through the many benefits of giving back to humanity, including the animals that are part of the fabric of communities.
Celebrating their 6th birthday this month, Adelaide-based digital marketing agency Refuel Creative is one such business, having expanded their business internationally and using their knowledge to help Australian animal welfare charities achieve their goals and save them thousands of dollars.
Refuel Founder and CEO Ryan Jones is now calling Aussie businesses to give back to their community by sharing their knowledge and experience in the work they do.
Jones has worked in the not-for-profit (NFP) sector for a number of years and now works to help charities across Australia, saving them $400K (collectively).
"I've seen the challenges charities face and the impact they can have on their communities. If an organisation like ours can help them be more efficient with their limited resources, then we can help them improve their outcomes," said Jones, a HubSpot certified marketer and SEO expert.

The pet rescue industry is a particular passion of the team at Refuel, who are long-term sponsors of the annual

Companion Animal Rescue Awards

, providing website, marketing and live-streaming services in addition to an in-kind prize for a winning animal rescue organisation.





Refuel has worked with past Rescue Awards winners

Greyhound Rescue

and the

Rabbit Sanctuary

, and this year will donate their expertise to

Rachie's Ratirement Home

, a Brisbane-based pet rat rescue charity, for taking out last year's 'Refuel Creative Digital Marketing' category.

Jones said, "We're all animal lovers at Refuel, so the Rescue Awards is important to us. It gives the team an
opportunity to work on something that recognises the hard work of these charities, shining the light on rescues, shelters and other organisations giving pets a second chance in a loving home."
In the lead up to Christmas last year, the Refuel team celebrated the season of giving by spending a fun afternoon cuddling bunnies brought in by their client
RSPCA South Australia
.
"The team at RSPCA helped fill in our gaps in bunny knowledge, learning about the different breeds, and some of the ways they get abandoned. It was very tempting to take a couple of bunnies home!" said Jones.
Giving back to humanity
Refuel helps not-for-profit organisations in different ways depending on their needs, whether it's getting their Google Ad Grant up and running, improving their Search Engine Optimisation so that they can be found online or building websites that help attract new donors and funders, and more.
The digital marketing team has also worked with
The Animal Rehoming Service
and
AMRRIC
(Animal Management in Rural and Remote Indigenous Communities), which collaborates with rural and remote Aboriginal and Torres
Strait Islander peoples to improve the health and wellbeing of their companion animals and the health, wellbeing and safety of communities.
"We do a lot for AMRRIC – CRM implementation, website, IT setup and support, training and more," said Jones. "We cut their IT spend by thousands of dollars per year in 2017 and retained them as a client ever since, with our scope of work growing with the organisation's needs."
When The Animal Rehoming Service had issues with their Google Ad Grant, Refuel came to the rescue, which resulted in growth in website traffic social media following and newsletter subscriptions.
Refuel has competitive edge with launch in U.S
Last year Refuel launched into the United States market, giving the growing company a competitive edge in the marketplace.
"The U.S. market opens up a lot of opportunities not just for us but also our clients," said Jones. "It's a larger market, with larger companies, which means more data. It's also a more advanced market, so we're doing things in America that won't become trends in Australia for 18 to 24 months. This helps the Aussie charities we work with stay ahead of the competition and benefit from the knowledge gained from working with businesses with a range of budgets and data sets."
Jones encourages Australian businesses to give back to their community by sharing their knowledge and experience in the work they do.
"People often overlook the not-for-profit (NFP) sector as a whole but working with these organisations can have a range of benefits you may not have considered," he said.
"There are of course the direct business benefits, potential client referrals and opening up new markets. But you may also be in a position where you or a loved one needs the support of these organisations. If we don't support them now, they won't be around when we need them."
About Refuel Creative
Refuel Creative is an award-winning digital marketing agency with offices in Australia, United States and New Zealand.
For more information, please visit
www.refuelcreative.com.au
February 2, 2023
PETstock and Qantas Frequent Flyer emBARK on new partnership
Caring for pets is set to become even more rewarding as Qantas Frequent Flyer and PETstock launch a new partnership.
From today, PETstock customers can now choose to earn Qantas Points when shopping online or from hundreds of PETstock stores around Australia, expanding on the existing PETstock Rewards program.
Qantas Frequent Flyers will earn 1 Qantas Point per dollar spent at PETstock and 5 bonus Qantas Points per dollar spent when making repeat purchases of participating brands stocked in store or online.
Pet owners will also be eligible to earn Qantas Points on PETstock's wide range of eligible services including grooming, puppy school and veterinary services.
PETstock CEO, Shane Young, says the company is thrilled to partner with such an iconic and trusted Australian brand to bring more value to their customers.
"With over 6.9 million households now owning a pet across the country, we are always looking for ways to add more value to the lives of our dedicated pet parents. Partnering with the

Qantas Frequent Flyer program

is an opportunity for our customers to choose how they're rewarded when they shop, either through our existing PETstock Rewards program, or now, by earning Qantas Points," says Shane.
"We want our customers to be able to see the value of shopping at PETstock, not only for our extensive product range and renowned expertise of our staff, but because they can benefit from earning money back when they shop through our loyalty program, or earn Qantas Points to redeem on flights, hotel stays or on restaurants just to name a few."
Qantas Loyalty CEO Olivia Wirth said the opportunity to earn Qantas Points while shopping and caring for their pets would be popular among frequent flyers.
"Australia has one of the highest rates of pet ownership in the world and adding more value to the growing spend on pets is great news for our members," said Ms Wirth.
Customers can earn Qantas Points at PETstock by joining PETstock Rewards and linking their Qantas Frequent Flyer details to their account before shopping in store or online. As part of the new partnership, customers will be able to join the Qantas Frequent Flyer program for free when shopping at PETstock.
Participation in the

PETstock Rewards Program

, including eligibility to earn and spend PETstock Rewards and Qantas Points, is subject to

Terms and Conditions

.
For further information or to find your nearest PETstock, please visit
www.petstock.com.au
18 MAY 2022
Victoria to conduct its first ever Pet Census in 2023
Victorians' furry, feathered and scaly friends will be the focus of the state's first pet census, which will gather crucial information about owners and their beloved companions.

The Andrews government on Wednesday announced more than $610,000 for the survey to be held next year.

Under Victoria's current system it is up to local governments to collect and store most information about pet ownership and registration, meaning there is a lack of up-to-date data that is reliable and state-wide.

The census, slated to go ahead online next year, will ask questions about the pet owners and their animals, as well as pet health, how much it costs to take care of a pet, and the social and wellbeing impacts of pet ownership.

"We are delivering the state's first ever pet census to better understand the important role pets play in the lives of Victorians," Agriculture Minister Mary-Anne Thomas said.

"The pet census will help us ensure we're best supporting our furry friends and their owners with the services they need."

More Victorians are welcoming pets into their homes than ever, and pet ownership rates nationwide have increased by about eight per cent in the past two years, to 69 per cent.

RSPCA Victoria's chief executive Dr Liz Walker backed the pet census, which comes after the state government announced $18.6 million to support animal care and protection in the budget earlier this month.

"Pets matter to people, so we support the implementation of a pet census knowing it will provide vital data to support targeted initiatives that will help Victorians better care for their pets," Dr Walker said.
APRIL 2022
Rising Demand for Home Visits Helping Handle Pandemic Pet Boom
Australia's pandemic-fuelled pet boom has placed increased pressure on the nation's struggling veterinary industry – but there's a ray of hope in the rising demand for home delivered vet services.
Animal Medicines Australia's 2021

Pets and the Pandemic Report

* revealed pet ownership Down Under is at record levels. It showed an estimated 30.4 million pets are now calling Australia home and that the proportion of pet-owning households increased significantly from 61% to 69% in just over two years.
The report also found nearly 1 in 5 dogs and 1 in 4 cats joined Australian homes during the pandemic and, according to the Australian Veterinary Association, COVID-19 and the pet boom has exacerbated the country's severe veterinary workforce shortage and the stressors facing vets.
The pandemic has, though, also sparked growing demand for home vet visits, which is playing a part in helping address the vet shortage.
"Many pet owners turned to home vet visits for the first time during COVID because restrictions like social distancing in the vet clinic placed extra unwanted stress on them and their fur babies," said Operational Manager Kiri Brandli from Pawssum Vets, Australia's largest network of mobile vets.
"The good news is that, with more demand for mobile vets, veterinarians who'd left or were thinking of leaving the industry due to long clinic hours and the emotional stress of the career, saw a new way to be able to stay in the job they love while also taking care of themselves," she said.
Pawssum now has more than 240 vets working across Australia, up from 180 at the start of the pandemic.
"Mobile vets on our national app-based platform get to work as much or as little as they like and can even select what jobs they do while we handle the business side of things, so it's a win-win for them and pet owners too who need to be able to access quality vet services," Ms Brandli said.
Melbourne-based vet Dr Stephen Bennett said, he was attracted by the lower start-up costs and support offered by the Pawssum platform.
"I'd been looking for alternatives to the daily grind of clinic life when I came across Pawssum and had to try it out. I find pets and their owners are more relaxed in their home environment, particularly when I'm in control of my own schedule," he said.
"Being able to pick and choose cases I'm comfortable with is an added bonus. The flexibility of being able to choose when and where to work has improved my wellbeing and I can earn as much or as little as I like."
Pawssum.com.au

operates in all major Australian capital cities and has so far carried out more than 42,000 home vet visits.
Four years since launching in Australia, it is set to expand its offering into New Zealand in April 2022.
*

https://animalmedicinesaustralia.org.au/report/pets-and-the-pandemic-a-social-research-snapshot-of-pets-and-people-in-the-covid-19-era-2/
22 APRIL 2022
Peak psychology body supports calls for veterinarian mental health funding
The Australian Association of Psychologists (AAPi) is supporting calls by the Australian Veterinary Association for both major political parties to commit to investing $3 million over five years to save the lives and wellbeing of Australian veterinarians.
AAPi Executive Director Tegan Carrison said veterinarians had one of the highest rates of suicide in the world and ongoing mental health support was crucial.
"In Australia, a vet takes their own life every 12 weeks. Not only do we need to increase awareness of the pressure they are under and normalise the need to seek support, we need to make psychological services more accessible so help is there when it is needed," she said.
Dr Nadine Hamilton, AAPi psychologist and a leading expert on veterinarian mental health, said she made a number of submissions for grant funding for vet mental health but all had been rejected, including a pre-budget submission by AAPi in 2021.
"I feel the government is not seeing the desperate need in this profession. The funding we applied for would have gone towards counselling, wellbeing workshops and educational resources," she said.
Dr Hamilton, founder of the charity Love Your Pet Love Your Vet, said although community awareness of vets and their mental health had improved, there was still a stigma among vets about seeking help in the first place.
"A lot of vets feel ashamed about asking for help and often don't want to go to their GP in the beginning to get a referral to a psychologist - if they could self-refer it would streamline the process," she said.
"Vet nursing staff are also under pressure and often need counselling but for them it is often a budgetary issue that stops them from going."
Ms Carrison said the Medicare rebate for all psychologists needed to be raised to $150 so those who needed mental health care could afford it.
Dr Hamilton
is the author of "Coping with Stress and Burnout as a Veterinarian" and provides reduced cost counselling via her
website
.
Tegan Carrison is the Executive Director of the

Australian Association of Psychologists Inc

(AAPi), a not-for-profit peak body representing all psychologists in Australia.
If you're in Australia and need to speak to someone, please reach out to any of these help lines:


Real Pet Food Company (RPFC) has announced its entry into the growing pet supplements market with the acquisition of Australian-based pet supplement start-up, People for Pets.

The acquisition marks RPFC's first entry into the pet supplement category, a segment which David Grant, CEO, RPFC, says represents significant opportunity for the business.

People for Pets was built by a team of former Blackmores and P&G executives and has demonstrated impressive growth since its foundation in 2021. It recently launched Nectar of the Dogs, the first range of Australian made,

plant-based, medicinal water treats

.

Nectar of the Dogs was formulated to exacting, evidence-based standards in collaboration with vet surgeons and naturopaths. It uses organic and human-grade ingredients setting a new standard for dog supplements.

Through the partnership, RPFC will work to grow the People for Pets brand both domestically and in key global markets.

RPFC is investing alongside founder and ongoing shareholder and employee of People for Pets Gabriel Perera, who said: "This is an exciting partnership for People for Pets because we can combine the entrepreneurial style and natural animal health expertise that has made us successful to date, with RPF's experience, resources, capabilities and international reach as a values-led, Australian global pet care leader."

Six of Australia's best detector dog graduates head overseas to enhance regional border security
​​Australia today says 'sayonara' to six of its best detector dog graduates, as they depart overseas for a career with Japan Customs, once again demonstrating the Australian Government's cutting-edge border protection arrangements on the world stage.​​
​​Minister for Home Affairs Karen Andrews, herself a patron of the

Australian Border Force's Detector Dog Program

(ABF DDP), said she was delighted to see Quiche, Remi, Quinton, Xolis, Naji and George graduate and find employment with Japan Customs, boosting the border security of our near region.​​
​​"Australia will continue to work collaboratively with Japan in support of a secure and stable region, including by stamping out transnational, serious and organised crime syndicates that seek to move illicit weapons, drugs, and cash across our borders," Minister Andrews said.​​
​ "Our ongoing cooperation is strengthening our respective border arrangements and enhancing regional security."​​
​Each year the ABF's DDP works to maintain the integrity of the Australian border, completing more than 24,000 targeted operations and making more than 2,000 detections of illicit substances and prohibited items across airports, seaports and postal gateways.​​
This includes more than 800 illicit drug detections, millions in undeclared currency, and tonnes of tobacco products in both air and sea cargo environments.​​
​​All six of the dogs going to Japan were trained by the ABF, which breeds around 160 Labrador retriever puppies each year to service ABF operational needs and those of a wide range of domestic and international law enforcement partners.
​​​​Domestically, ABF bred dogs are deployed to the Australian Federal Police; the Department of Agriculture, Water and the Environment; state and territory police; correction services; Seeing Eye Dogs Australia; and ​the Australian Defence Force. Internationally, the DDP has commitments to assist with detector dog capability in New Zealand, Taiwan, Papua New Guinea, Indonesia and Japan.​​
​​Demand for ABF dogs continues to grow as more agencies discover the quality of the program's bred

Labradors

. For more information - including details about how to foster a puppy, you can

read this article
31 JANUARY 2022
PetLab supports Pets Haven Animal Shelter with year's worth of cleaning solutions
PetLab

is delighted to announce that it will be offering a show of support to the noble and commendable efforts of

Pets Heaven

, by giving the animal shelter a year's worth of cleaning solutions.
The manufacturer of effective pet cleaning products has pledged $150,000 in PetLab cleaning products to the not-for-profit animal shelter.

"We're proud to announce we'll be giving Pets Haven $150,000 in PetLab products (That's approximately 85L per week of cleaning solution for the rest of the year…) so the animals they care for can be happy and healthy while they recover and find new forever homes." - PetLab.



Pets Haven

is a not-for-profit animal shelter that exists to give pets, big and small, a second chance to find the perfect home. The organization rescues pets in need and helps nurture them back to full health, before responsibly facilitating their re-entry into the community through a well-vetted adoption process.

"We rescue from death row pounds, cruelty cases, puppy farms, and the community. We endeavour to responsibly rehome these orphans back into the community to give them a second chance at life." - Pets Haven.

All the animals that find their way to Pets Haven have often been mistreated, neglected, or abused. And the foster carers over at Pets Haven do an amazing job of nurturing them back to full health, getting them ready for adoption so they can finally join a caring and loving family.

PetLab believes that the donation, which is approximately 85L per week of cleaning solution for the rest of the year, will help make pet parenting and caring a bit easier for the team at Pets Haven, which will, in turn, ensure a more comfortable stay for the pets and animals that have found sanctuary within its walls.

12 JANUARY 2022
Companion Animal Network Australia appoints first CEO in its mission to support the human-animal bond and over 30 million Aussie pets and their families
Leading animal welfare charity Companion Animal Network Australia – Australia CAN (formerly Animal Welfare League Australia) appoints its first Chief Executive Officer, Trish Ennis, in its mission to support the human-animal bond and an estimated 30.4 million
*
pets and their owners across Australia.
Australia CAN's President Dr Megan Alessandrini said, "Australia CAN has developed considerably with a range of strategies aiming to honour and strengthen the human-animal bond, and it was time to make this appointment. Trish is a perfect fit for Australia CAN."
Ms Ennis joined
Animal Welfare League Australia
(AWLA) in December 2019 as National Executive.
"When the National Executive role came to my attention, I hadn't really heard of AWLA, and soon found out there were a number of Animal Welfare Leagues around Australia that didn't belong under the AWLA banner. It was clear there was great confusion out there about who we were and what we do," she said.
Ms Ennis said she's honoured to be appointed as CEO as she marks her second anniversary with the charity, celebrating her achievements to date.
"
Companion Animal Network Australia
launched in October 2020 and today clearly speaks to who we are – it is Australia's only national peak body representing companion animals and the industry that works with them," said Ms Ennis. "With a clear strategic plan to work to, we are now on the path of completing our initiatives. We are here to support the human-animal bond and the estimated 30.4 million
*
pets and their owners."
Key projects in the works: Pets in Aged Care a priority
In August 2021, Australia CAN successfully launched
www.rentwithpets.com.au
, which works to decrease the number of pet surrenders due to archaic rental laws, whilst bringing landlords and tenants together.
Australia CAN's next major projects include Pets in the Aged Care and Pets in Business, which is particularly poignant following COVID lockdowns with the increase of people getting pets and not wanting to return to the office full time, said Ms Ennis.
"Australia CAN is currently actively advocating in support of pets in aged care settings as a major priority for the organisation," she said.
"Older people are often forced to say goodbye to their companion animals when moving into aged-care accommodation, causing immense grief. Furthermore, the outcomes for their beloved pets vary, including surrender to a shelter. Australia CAN is working with aged care experts to find ways of preserving the bond between people and pets in aged care accommodation.
"Australia CAN needs donor support to continue the work of our members and corporate support to develop our programs. I look forward to building Australia CAN and developing strong partnerships and donor support to allow our members to continue the amazing work they do with the animals and families whilst continuing to develop the programs."
Australia CAN's projects include:
1) Pet friendly homes
✔️
More rentals welcoming pets
✔️
More aged care services welcoming pets
✔️
New building developments that are pet friendly
2) Pet friendly communities
✔️
More pet-friendly open spaces
✔️
Increasing transport options
✔️
Contributing to the role of school-based education
3) Pet friendly businesses
✔️
More

pet-friendly workplaces
✔️
Increasing pet-friendly holiday accommodation options
✔️
More pet-friendly cafes and restaurants
✔️
Airlines and car transport companies to become pet-friendly
4) Responsible pet ownership
New tricks for old breeds
Educating and Creating Communities Enriched by Dogs
Today's launch of the not-for-profit organisation, Dogs Australia coincides with a spike in dog ownership [1] and an eagerness to find the most suitable breeds from ethical breeders.
Dogs Australia is the new consumer face of the internationally recognised

Australian National Kennel Council

(ANKC) and unites the expertise of an estimated 60,000 members [2] , including 11,000 registered breeders, 350 breed clubs and almost 500 sports for dogs clubs across all states and territories.
"The launch of Dogs Australia draws on the strength and experience of all the state and territory-based member bodies to advocate for dog welfare and responsible dog ownership," said Dogs Australia President, Hugh Gent, OAM.
With a surge in dog ownership during lockdown and an alarming rise in online puppy scams, Dogs Australia is promoting the benefits of buying through its network of registered breeders.
"Our registered breeders follow a strict code of ethics, conduct health and DNA tests, provide a certificate of pedigree and give the owner on-going support," said Mr Gent. "Our breeders are passionate about finding the right homes for their dogs."
The rebranding of the 63-year-old ANKC includes the launch of a national education campaign in February to help potential dog owners find the most suitable breed to fit their family and lifestyle. The campaign includes a video series showcasing more than 180 breeds categorised into seven distinct groups:
"A dog is a big commitment. It should never be an impulse buy," said Dogs Australia ambassador and veterinarian, Dr Rob Zammit.
"We recommend people thoroughly research their dog choice and they can start with our online questionnaire to determine whether it's the right time to buy a pup, which breed and breeder to choose."
Dogs Australia aims to safeguard the future of pedigree dogs through ethical breeding and canine health research while promoting conformation shows and sports for dogs that fulfil a breed's natural instincts.
[1] Animal Medicines Australia [2] Members including those of affiliated bodies
4 NOVEMBER 2021
Australian Start-Up PETspot to combat mounting puppy scams
Australian start-up, PETspot, is using technology to battle an increasing number of puppy scammers who have emerged in the past 18 months to take advantage of soaring demand for pets due to COVID-19 lockdowns.

According to the ACCC, as of September 30 2021, there have been 2,544 reports of pet scams with losses totalling more than $3 million this year, compared with just 498 complaints in 2019.

PETspot, a start-up run by three University of Technology Sydney alumni, allows safe pet transactions to take place through its online platform. The company independently verifies breeders on the platform and guarantees the buyer's money once a payment is made, offering buyers a safe and simple way to find a companion responsibly.

Nick Figliano, the 23-year-old co-founder of PETspot said he came up with the idea for the company after he was nearly scammed out of thousands of dollars when trying to buy a puppy.

"I realised I was dealing with a scammer before I handed over any money, but many others aren't so lucky.

"The industry is purely cash-based and there was no payment system that covers you for pet scams — until now. That's where PETspot comes in, providing a secure way to pay for a dog or puppy and linking buyers directly with responsible sources. We've created Australia's first payment system that is built specifically for pets.

"We're confident in providing consumers with a guarantee of the safety of their transaction because of the rigorous checks and balances we have in place before a breeder is allowed to list themselves on our website," he says.

Mr Figliano teamed up with two of his mates, Joseph Commisso and Jeremy Lay, to start PETspot and with the onset of COVID-19 the business has taken off.

There are now more than 200 authenticated breeders on the website and to date, $3 million dollars worth of dogs and puppies have found a home through the platform.

PETspot has created a strenuous code of ethics to fact-check dog breeders which includes providing proof of registration with regulatory bodies, showing health tests of the litter of puppies and an identity check.

For more information, visit

www.thepetspot.com.au

.
If you have been the victim of a pet scam, you can report it to the ACCC via Scam Watch:

www.scamwatch.gov.au

.


3 SEPTEMBER 3, 2020
Don't forget Domestic Animals in Drawing Victoria's Covid Roadmap!
Victoria's roadmap out of Stage 4 lockdown must not ignore the welfare of our domestic animals as well as people, says industry peak body, the

Pet Industry Association of Australia

(PIAA).
"During the Covid-19 pandemic we've seen many people turn to animal companionship to help them get through a very tough time," said PIAA national president, Barry Codling.
"Just like their owners, pets need to be properly fed, exercised and cared for.
"This isn't just about veterinary and feed services, but access to other supplies and services that ensure domestic animals can live happily and healthily, even in the midst of this pandemic."
"Even grooming and walking services are essential for many companion animals," Mr Codling said.
"For example, if a pet owner is frail and elderly, and can no longer properly groom and exercise her beloved dog, she needs help in caring for that companion animal, just as much as they need help with caring for themselves.
"But in a crisis like this pandemic, these services are too easily under-valued when governments make decisions about what businesses can remain fully or partly open, and which cannot," Mr Codling said.
With the Victorian government planning to release its roadmap out of the current lockdown on Sunday, including its plan to reopen the state's economy, Mr Codling said it is highly important to treat domestic and companion animal health and welfare services as essential and not discretionary.
"We call on the Premier, Mr Andrews and the Minister for Jobs, Mr Pakula, to include pet services businesses in their roadmap and economic recovery consultations, and ensure the health and welfare needs of domestic animals, as well as livestock, are fully respected in all future decisions about extending Victoria's State of Emergency and State of Disaster," Mr Codling said.
PIAA is also calling for Victoria's essential and emergency services legislation to be amended after this emergency passes, to ensure that animal welfare is specifically defined as an essential service in any future state of emergency.
"It's vitally important, in times of grave emergency, that meeting the basic health and welfare needs of Victoria's domestic and companion animals does not depend on the discretion of ministers and officials, but is unambiguously legislated as a category of essential service," Mr Codling said.
SEPTEMBER 3, 2020
Pet Insurance Australia – 2020 Mozo's Pet Insurer of the Year
Pet Insurance Australia
is thrilled to announce they have been named
Mozo's 2020 Pet Insurer of the Year
.
"We are very proud to be the winners of the prestigious award for the second consecutive year," Nadia Crighton from Pet Insurance Australia says. "These awards are a great testament for our hardworking, pet-loving team at PIA, and also our clients who can rest assure knowing they have invested in a quality cover for their beloved pet."
The Mozo Experts Choice Awards for Pet Insurance aim to recognise insurance providers that consistently offer exceptional quality and value products. The Mozo Exceptional Value awards recognise pet insurance that's among the best-priced, based on a comparison of prices for selected dog and cat scenarios.
The Exceptional Quality awards recognise pet insurance cover that leads the market in the generosity of additional benefits and flexibility of options - irrespective of price. Policies must be among the best-ranked for both dogs and cats, to be awarded.
"Every day, Mozo keeps track of thousands of products in banking, energy and insurance," Mozo Director Kirsty Lamont said. "We use our knowledge and experience to evaluate products that offer market-leading features and great value to customers. Being named Pet Insurer of the year, like Pet Insurance Australia has, shows that they offer a range of high-quality products to their customers."
After evaluating a wide range of policy scenarios,
Pet Insurance Australia
has won Mozo Experts Choice Awards for Exceptional Value Accident and Illness and Exceptional Value for their Comprehensive Pet Insurance.
"To win these awards, insurers need to offer comprehensive products while still being affordable," Lamont says. "These awards are a true testament to the outstanding products that Pet Insurance Australia offers to its customers. Pet Insurance Australia offers its customers a fantastic range of policies putting them a cut above the rest."
Pet Insurance Australia offers a range of policies, including Major Medical, Comprehensive, and Pet Essentials and have won various awards over the years for excellence. They pride themselves on being a 100% Australian owned family operated business.
"PIA are also proud to offer the GapOnly service at participating vets," Crighton says. "Allowing an even easier claim experience for both our clients and vets. The feedback we are constantly receiving on this service is just wonderful. It allows pet parents to concentrate on the health of their pet, during a stressful time, and not paperwork."
About the Mozo Experts Choice Awards for Pet Insurance 2020
For the full list of winners and Awards methodology, visit:
https://mozo.com.au/expertschoice/pet-insurance
AUGUST 19, 2020
The Petbarn Foundation is helping to train 15 Seeing Eye Dogs puppies!
Aussies helps the Petbarn Foundation smash its 2020 Seeing Eye Dogs fundraising appeal.
Thanks to Australia's generous contribution to the annual Petbarn Foundation's Seeing Eye Dogs Appeal, Petbarn has raised an incredible $775,000.
The figure is a record amount in what is the appeal's seventh year - surpassing its $500,000 fundraising target by $275,000. Since the appeal first started in 2014, 85 Seeing Eye Dogs have been trained and 85 lives changed for the better.
The money raised means that 15 Seeing Eye Dogs puppies will be able to commence their two-year training process and enable Australians who are blind or have low vision to have greater independence, with the best of companions by their side.
Petbarn Foundation Chairperson, Scott Charters, says, "We're extremely grateful to everybody that donated what they could to this great cause. We know 2020 has been a challenging year for so many people, yet our customers continue to amaze us with their generosity.
"The money raised will go towards helping Australians who are blind or have low vision retain their independence and mobility. Thanks to our customers across the country, 15 Seeing Eye Dogs puppies will be trained to provide companionship and special assistance to people who need it most."
Royal Canin, one of the Petbarn Foundation's key partners, also donated $50,000 towards the fundraiser while Vision Australia's first-ever "Seeing Eye Dogs Puppy Games" helped raise awareness and donations for the cause too. The Puppy Games saw four pups go tail-to-tail to showcase their skills and the real-life challenges they may face as Seeing Eye Dogs.
Vision Australia Seeing Eye Dogs General Manager, Graeme Craig, says, "Our partnership with the Petbarn Foundation is integral to raising funds so that even more Seeing Eye Dogs pups can complete the extensive training they require.
"We're overwhelmed with how much has been raised for this year's appeal. Through the amazing efforts of Petbarn and City Farmers customers, we can continue to support even more Australians who are blind or have low vision.
"It takes a lot of expertise, time, love, patience and funding to raise these special dogs that will one day provide the gift of independence. For the right person, these highly trained dogs help them move confidently and navigate obstacles with much more reliability and safety."
For more information on the initiative, please visit:
www.petbarn.com.au/seda/
JUNE 15, 2020
RSPCA NSW shelters reopen to the public
RSPCA NSW shelters and care centres across the state are ready to welcome walk-in adoptions effective Monday 15 June 2020.
Opening our doors again to the public brings an end to our successful
Adopt from Home
program.
Launched in April, the online initiative found homes for 2655 animals in RSPCA NSW shelters and Petbarn Adoption Centres across the state.
"Thank you to everyone who has continued to support us, it has been heart-warming to see the community turn to animal companionship during these challenging times," said RSPCA NSW CEO Steve Coleman.
"We hope this support will continue as we reopen our doors to the public to adopt animals in our care."
Please visit our
website
to find the latest opening hours for

your nearest RSPCA NSW shelter

, care centre and vet clinic, as they may have changed.
All operational changes are made in line with Federal and NSW State Government regulations implemented to limit the spread of COVID-19.
Whilst restrictions have eased, RSPCA NSW encourages the practice of safe social distancing and hygiene measures while visiting our locations. Limits on the number of people allowed inside the shelter at any time will be monitored and varied from shelter to shelter.
Danny
the Pointer cross overhearing that prospective adopters can now visit him at the Coffs Harbour Shelter
All animals available for adoption nationally can be found online at
www.adoptapet.com.au/
.
JUNE 10, 2020
Frontier Pets - On a Mission to End Factory Farming
Frontier Pets, is an Australian company founded 5 years ago by ex Shark Tank contestant, and disruptor of the Australian Factory Farming industry, Diana Scott.
Trailblazing a new way forward for the Australian pet food industry and ruffling a few feathers along the way, Frontier Pets have made it their mission to put an end to the 500 million Australian animals currently stuck in the vortex of animal cruelty which is Factory Farming, and they want you and your dog to join them in the battle.

Frontier Pets founder, Diana Scott, is a strong believer in organic and free range produce, however, she saw a gap in the market for ethical food options available for her pets.
Through research Scott came to realise that the Australian pet food industry is essentially propping up the Factory Farming industry in Australia.
Frontier Pets have produced a range of superior pet products using only high welfare and organic ingredients while also supporting ethical Australian producers. By supporting ethical meat suppliers, and bringing awareness to the unethical and inhumane practices of Factory Farming, Frontier Pets hopes to have these methods shut down once and for all.
"In our desire to produce cost effective meat, we've created concentration camps for animals. And the pet food manufacturing industry is supporting this by using the off-cuts of Factory Farmed animals in their pet food. It's not acceptable and it's not necessary." explains Frontier Pets founder, Diana Scott.
With a purpose to provide superior nutrition that doesn't cost the earth,

Frontier Pet food

contains all natural, free-range, organic and human-quality ingredients.
Developed alongside one of Australia's leading dog nutritionists,
Dr Kathy Cornack
,
Frontier Pets
spent two years perfecting the recipe to include all nutrients dogs should be eating based on their natural ecology.
Processed using a cutting edge freeze-drying technology ensures that colours, flavours, and most importantly, the nutritional content remain intact. Frontier Pet food ensures your dog will be healthier, have more vitality and be more likely to maintain a healthy weight.

Frontier Pets works closely with organic and free range farmers throughout Australia to source quality cuts of beef, chicken, pork and eggs, to not only create one of the most nutrient rich pet foods on the market, but also to create partnerships and support ethical farming practices across Australia.
Together, with their growing customer base, Frontier Pets have contributed $1,314,200 towards ethical farming. Founder, Diana Scott explains, "We only purchase produce from free-range meat farmers and organic fruit & veg producers. The partnership works because farmers have a new income stream and we get the very best produce on the market. Australian free-range farmers really care about their animals and they know that we care, so they're delighted to be working with us".
Paving the way for the pet food industry, Frontier Pets isn't focused on competitors, but instead focused on encouraging other pet brands to join them in the fight against ending Factory Farming, and prove that dogs really can really help change the world.
For more information on Frontier Pets please visit
frontierpets.com.au
JUNE 9, 2020
No pause for Dr Paws - A vet practice that continues to grow
According to new research, demand for general and advanced veterinary services is forecast to grow steadily over the next five years, driven by the greater uptake of animal insurance and increased willingness on the part of the owner to extend their pets' lives.
Other contributing factors to industry growth include an increase in the pet population, pet humanisation within the growing global urban population and increased awareness of animal welfare needs due to social media.
Oscar, 7-week old Border Collie
first puppy health check
However, growth in the market can also become stagnated by high costs associated with having a veterinary practice that needs to keep up with higher equipment and technology costs.

Adam Russell is the Founder and Managing Director of Veterinary Practice Partners, which provides business support to

Dr Paws Veterinary Clinics

located throughout suburban and regional New South Wales and Victoria. Adam started the business in 2012 with the first clinic opening in 2013, and over the past seven years has invested in and expanded the business to include eight clinics. The majority of the vet practices are small animal clinics.
"There are a lot of set up costs for a veterinary clinic. It can be anywhere from $500,000 to $600,000 to set up a clinic, and typically it takes two to three years to start becoming profitable. Costs include fit out of the location and equipment purchases, and then staff costs on top of that," says Adam. "It can be difficult for vets to get clinics up and running due to the cost and there is a lot of risk involved. Typically for the first two years your cash flow is negative and you continue to drain on your resources."
Adam was able to support the clinics' growth by extending payment terms with suppliers through the UnLock payment gateway. As a result, cash outflows to suppliers were delayed, enabling Adam to purchase new equipment and further develop his clinics as needed, instead of having to wait for the perfect timing in his cash flow cycle.
During this period of growth, Dr Paws clinics had the opportunity to enter into business with a new supplier on longer payment terms or to continue with the existing supplier on reduced payment terns. The latter could have a significant impact on the businesses cash flow due to shorter payment terms. However, the longstanding and well working relationship with existing suppliers meant that the clinics wanted to continue business with these suppliers. As a result, Adam had to find a way to make their finances work better for business' growth.
Adam's interest in Fintech funding, innovative funding alternatives and equity solutions led him to Marketlend, a marketplace lending solution. Subsequently, Adam discovered a new Marketlend product, UnLock.

UnLock

is an Australian Buy Now Pay Later B2B solution, allowing businesses to pay upfront and get extended payment terms. The method assists business growth and fills in funding gaps where there are delays. An UnLock facility compliments and works in conjunction with any existing banking facilities a business may have, ensuring bank funding is not impacted or business slows down.
The UnLock payment gateway enabled Dr Paws to renegotiate with existing suppliers, including discounts and an early settlement discount. Their UnLock facility also allowed for extended payment terms, greater than the reduced terms imposed by the supplier. The revised payment terms resulted in the business having an extra six figure sum available to purchase stock and equipment.
"Before using UnLock I would've needed to change suppliers or have to invest more physical capital into the business directly," says Adam. "Unlock presented us with an opportunity to meet and exceed the payment terms that wouldn't have been possible on our own. We were able to have extra cash reserves for multiple clinics because of the difference in timing of those payments. Apart from maintaining our existing supplier network, we can now also work with suppliers that we previously couldn't consider due to their terms of trade."
With plans in the future to expand the business and open up more practices, Adam says, "UnLock is an attractive option for veterinarians. It makes good business sense to delay some significant invoices as much as you can by using products like UnLock to help from a cash flow point of view as you're essentially making your accounts work for you better. This better protects your clinics' cash flow, which is essential for a small business, and enables a business to maintain good supplier relationships. Cash flow can then be used for other purposes such as new equipment purchases and renovating the clinic, which is really powerful for a small business."
About UnLock:

UnLock is a product of Marketlend, a Marketplace lending solution, offering working capital solutions for SMEs. UnLock is an Australian Buy Now Pay Later B2B solution. It is a new payment gateway enabling SMEs to boost their purchasing power with more working capital to grow. Suppliers can offer this payment gateway to enable buyers to pay upfront and have extended supplier terms of up to 30, 60 or 90 days.
JUNE 2, 2020
RSPCA NSW on the road with new emergency response infrastructure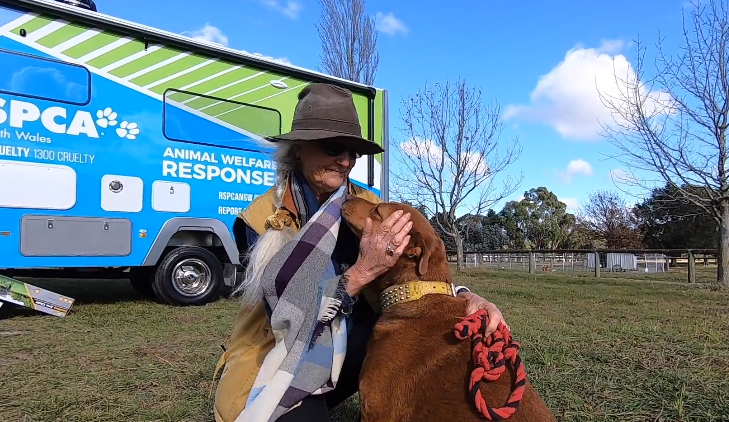 Red the dog received vital surgery as part of the organisation's bushfire assistance effort.
RSPCA NSW
's new
Animal Welfare Response Unit
is making its way down the NSW south coast this week to revisit communities affected by the recent bushfire crisis.
Launched in Braidwood on 1 June 2020, the mobile unit is checking in at some of the of the
129 bushfire affected communities RSPCA NSW provided assistance to
, including Batemans Bay, Moruya, Cobargo and Eden, before making its way inland to Cooma and Goulburn.
The state-of-the-art mobile command centre, procured from the RSPCA NSW Bushfire Appeal, is part of the organisation's $2.6 million investment in emergency response infrastructure.
The organisation also acquired two animal transport trailers, to carry injured animals, and two community outreach vehicles, which will provide immediate animal welfare assistance and education across the state.
RSPCA NSW staff, including the Inspectorate, will be better equipped to immediately respond to calls for help with the acquisition of emergency communication equipment including satellite phones, disaster PPE such as breathing apparatuses, and other vital equipment.
"RSPCA NSW was established 147 years ago to help animals in need and now we are in a strong position to manage future disasters with the rollout of the RSPCA NSW Animal Welfare Response Unit," RSPCA NSW CEO Steve Coleman said.
"This mobile unit will provide more communities and t
heir animals with immediate care on the ground when they need it the most."
The new RSPCA NSW Animal Welfare Response Unit
The commitment to invest in future emergency management comes in addition to the $1.3 million RSPCA NSW provided in

immediate aid to bushfire-affected communities

during the unprecedented bushfire crisis this year.

RSPCA NSW is also committing $2.4 million to a series of robust and long-term partnerships with wildlife organisations to protect and rehabilitate native animals across the state.

For more bushfire relief updates, visit the RSPCA NSW website.

Lort Smith
is applauding new laws on pets and renting. As of 2 March 2020, Victorian tenants wanting to incorporate a pet into their lifestyle can request their landlord's consent via the Consumer Affairs Victoria pet request form
here
.
[1]
Regardless of when a lease has commenced, landlords can now
not unreasonably refuse a tenant's request to allow a pet
. Lort Smith CEO, Fiona Webster welcomed the news as common sense.
"Melbourne is home to more than a million dogs and cats; and we know that animals are an important part of many families." There are over 29 million pets in Australia
[2]
and with Melbourne being home to more than a million dogs and cats alone, there's little doubt animals are part of the fabric of Victoria.
Located in North Melbourne,
Lort Smith
, Australia's largest not-for-profit animal hospital,
re-homes around 850 animals every year
.
CEO Fiona Webster with her rescue German Shepherd, Teddy
"Sadly, Lort Smith around
a third of animals are surrendered due to accommodation issues
. While Lort Smith will never euthanise an animal capable of being rehomed, others may not receive another chance." added Ms Webster.

At Lort Smith, staff regularly see local residents visit the adoption hub to spend time with the animals. They have found some even become volunteers, because they can't have pets at home and miss the valuable emotional connection of interacting with a cat or dog.



"The human-animal bond is very real and has huge impacts on the health and emotional wellbeing of people in the community," said Ms Webster.





Despite misplaced claims,

there's no reason to consider pet owners as bad or risky tenants

– in fact, the opposite is probably true.

"A well trained and properly cared for pet, with an attentive owner, will cause no more wear and tear to a residential property than a human," stated Ms Webster.



The new laws do not apply to pets already present before 2 March 2020. Prior to these changes there were no laws directly covering pets in rented homes.

Lort Smith is the largest not-for-profit animal hospital in Australia, delivering essential and life-saving services to sick, injured and vulnerable animals. Each year our team of more than 60 vets and 110 nurses provide quality care for around 25,000 animals. Lort Smith re-homes approximately 850 animals each year and operates a number of community outreach programs which have a significant social impact on the community. Lort Smith receives no ongoing government funding.
FEBRUARY 28, 2020
Western Sydney Dog Park Sets Tails Wagging