JUNE 15, 2020
RSPCA NSW shelters reopen to the public
RSPCA NSW shelters and care centres across the state are ready to welcome walk-in adoptions effective Monday 15 June 2020.
Opening our doors again to the public brings an end to our successful
Adopt from Home
program.
Launched in April, the online initiative found homes for 2655 animals in RSPCA NSW shelters and Petbarn Adoption Centres across the state.
"Thank you to everyone who has continued to support us, it has been heart-warming to see the community turn to animal companionship during these challenging times," said RSPCA NSW CEO Steve Coleman.
"We hope this support will continue as we reopen our doors to the public to adopt animals in our care."
Please visit our
website
to find the latest opening hours for

your nearest RSPCA NSW shelter

, care centre and vet clinic, as they may have changed.
All operational changes are made in line with Federal and NSW State Government regulations implemented to limit the spread of COVID-19.
Whilst restrictions have eased, RSPCA NSW encourages the practice of safe social distancing and hygiene measures while visiting our locations. Limits on the number of people allowed inside the shelter at any time will be monitored and varied from shelter to shelter.
Danny
the Pointer cross overhearing that prospective adopters can now visit him at the Coffs Harbour Shelter
All animals available for adoption nationally can be found online at
www.adoptapet.com.au/
.
JUNE 10, 2020
Frontier Pets - On a Mission to End Factory Farming
Frontier Pets, is an Australian company founded 5 years ago by ex Shark Tank contestant, and disruptor of the Australian Factory Farming industry, Diana Scott.
Trailblazing a new way forward for the Australian pet food industry and ruffling a few feathers along the way, Frontier Pets have made it their mission to put an end to the 500 million Australian animals currently stuck in the vortex of animal cruelty which is Factory Farming, and they want you and your dog to join them in the battle.

Frontier Pets founder, Diana Scott, is a strong believer in organic and free range produce, however, she saw a gap in the market for ethical food options available for her pets.
Through research Scott came to realise that the Australian pet food industry is essentially propping up the Factory Farming industry in Australia.
Frontier Pets have produced a range of superior pet products using only high welfare and organic ingredients while also supporting ethical Australian producers. By supporting ethical meat suppliers, and bringing awareness to the unethical and inhumane practices of Factory Farming, Frontier Pets hopes to have these methods shut down once and for all.
"In our desire to produce cost effective meat, we've created concentration camps for animals. And the pet food manufacturing industry is supporting this by using the off-cuts of Factory Farmed animals in their pet food. It's not acceptable and it's not necessary." explains Frontier Pets founder, Diana Scott.
With a purpose to provide superior nutrition that doesn't cost the earth,

Frontier Pet food

contains all natural, free-range, organic and human-quality ingredients.
Developed alongside one of Australia's leading dog nutritionists,
Dr Kathy Cornack
,
Frontier Pets
spent two years perfecting the recipe to include all nutrients dogs should be eating based on their natural ecology.
Processed using a cutting edge freeze-drying technology ensures that colours, flavours, and most importantly, the nutritional content remain intact. Frontier Pet food ensures your dog will be healthier, have more vitality and be more likely to maintain a healthy weight.

Frontier Pets works closely with organic and free range farmers throughout Australia to source quality cuts of beef, chicken, pork and eggs, to not only create one of the most nutrient rich pet foods on the market, but also to create partnerships and support ethical farming practices across Australia.
Together, with their growing customer base, Frontier Pets have contributed $1,314,200 towards ethical farming. Founder, Diana Scott explains, "We only purchase produce from free-range meat farmers and organic fruit & veg producers. The partnership works because farmers have a new income stream and we get the very best produce on the market. Australian free-range farmers really care about their animals and they know that we care, so they're delighted to be working with us".
Paving the way for the pet food industry, Frontier Pets isn't focused on competitors, but instead focused on encouraging other pet brands to join them in the fight against ending Factory Farming, and prove that dogs really can really help change the world.
For more information on Frontier Pets please visit
frontierpets.com.au
JUNE 9, 2020
No pause for Dr Paws - A vet practice that continues to grow
According to new research, demand for general and advanced veterinary services is forecast to grow steadily over the next five years, driven by the greater uptake of animal insurance and increased willingness on the part of the owner to extend their pets' lives.
Other contributing factors to industry growth include an increase in the pet population, pet humanisation within the growing global urban population and increased awareness of animal welfare needs due to social media.
Oscar, 7-week old Border Collie
first puppy health check
However, growth in the market can also become stagnated by high costs associated with having a veterinary practice that needs to keep up with higher equipment and technology costs.

Adam Russell is the Founder and Managing Director of Veterinary Practice Partners, which provides business support to

Dr Paws Veterinary Clinics

located throughout suburban and regional New South Wales and Victoria. Adam started the business in 2012 with the first clinic opening in 2013, and over the past seven years has invested in and expanded the business to include eight clinics. The majority of the vet practices are small animal clinics.
"There are a lot of set up costs for a veterinary clinic. It can be anywhere from $500,000 to $600,000 to set up a clinic, and typically it takes two to three years to start becoming profitable. Costs include fit out of the location and equipment purchases, and then staff costs on top of that," says Adam. "It can be difficult for vets to get clinics up and running due to the cost and there is a lot of risk involved. Typically for the first two years your cash flow is negative and you continue to drain on your resources."
Adam was able to support the clinics' growth by extending payment terms with suppliers through the UnLock payment gateway. As a result, cash outflows to suppliers were delayed, enabling Adam to purchase new equipment and further develop his clinics as needed, instead of having to wait for the perfect timing in his cash flow cycle.
During this period of growth, Dr Paws clinics had the opportunity to enter into business with a new supplier on longer payment terms or to continue with the existing supplier on reduced payment terns. The latter could have a significant impact on the businesses cash flow due to shorter payment terms. However, the longstanding and well working relationship with existing suppliers meant that the clinics wanted to continue business with these suppliers. As a result, Adam had to find a way to make their finances work better for business' growth.
Adam's interest in Fintech funding, innovative funding alternatives and equity solutions led him to Marketlend, a marketplace lending solution. Subsequently, Adam discovered a new Marketlend product, UnLock.

UnLock

is an Australian Buy Now Pay Later B2B solution, allowing businesses to pay upfront and get extended payment terms. The method assists business growth and fills in funding gaps where there are delays. An UnLock facility compliments and works in conjunction with any existing banking facilities a business may have, ensuring bank funding is not impacted or business slows down.
The UnLock payment gateway enabled Dr Paws to renegotiate with existing suppliers, including discounts and an early settlement discount. Their UnLock facility also allowed for extended payment terms, greater than the reduced terms imposed by the supplier. The revised payment terms resulted in the business having an extra six figure sum available to purchase stock and equipment.
"Before using UnLock I would've needed to change suppliers or have to invest more physical capital into the business directly," says Adam. "Unlock presented us with an opportunity to meet and exceed the payment terms that wouldn't have been possible on our own. We were able to have extra cash reserves for multiple clinics because of the difference in timing of those payments. Apart from maintaining our existing supplier network, we can now also work with suppliers that we previously couldn't consider due to their terms of trade."
With plans in the future to expand the business and open up more practices, Adam says, "UnLock is an attractive option for veterinarians. It makes good business sense to delay some significant invoices as much as you can by using products like UnLock to help from a cash flow point of view as you're essentially making your accounts work for you better. This better protects your clinics' cash flow, which is essential for a small business, and enables a business to maintain good supplier relationships. Cash flow can then be used for other purposes such as new equipment purchases and renovating the clinic, which is really powerful for a small business."
About UnLock:

UnLock is a product of Marketlend, a Marketplace lending solution, offering working capital solutions for SMEs. UnLock is an Australian Buy Now Pay Later B2B solution. It is a new payment gateway enabling SMEs to boost their purchasing power with more working capital to grow. Suppliers can offer this payment gateway to enable buyers to pay upfront and have extended supplier terms of up to 30, 60 or 90 days.
JUNE 2, 2020
RSPCA NSW on the road with new emergency response infrastructure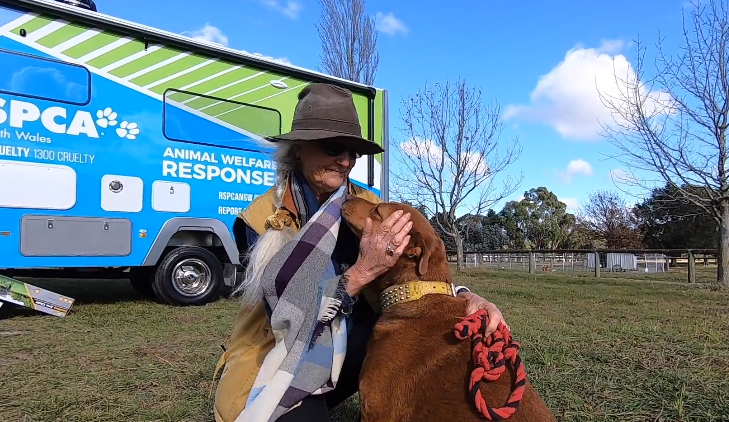 Red the dog received vital surgery as part of the organisation's bushfire assistance effort.
RSPCA NSW
's new
Animal Welfare Response Unit
is making its way down the NSW south coast this week to revisit communities affected by the recent bushfire crisis.
Launched in Braidwood on 1 June 2020, the mobile unit is checking in at some of the of the
129 bushfire affected communities RSPCA NSW provided assistance to
, including Batemans Bay, Moruya, Cobargo and Eden, before making its way inland to Cooma and Goulburn.
The state-of-the-art mobile command centre, procured from the RSPCA NSW Bushfire Appeal, is part of the organisation's $2.6 million investment in emergency response infrastructure.
The organisation also acquired two animal transport trailers, to carry injured animals, and two community outreach vehicles, which will provide immediate animal welfare assistance and education across the state.
RSPCA NSW staff, including the Inspectorate, will be better equipped to immediately respond to calls for help with the acquisition of emergency communication equipment including satellite phones, disaster PPE such as breathing apparatuses, and other vital equipment.
"RSPCA NSW was established 147 years ago to help animals in need and now we are in a strong position to manage future disasters with the rollout of the RSPCA NSW Animal Welfare Response Unit," RSPCA NSW CEO Steve Coleman said.
"This mobile unit will provide more communities and t
heir animals with immediate care on the ground when they need it the most."
The new RSPCA NSW Animal Welfare Response Unit
The commitment to invest in future emergency management comes in addition to the $1.3 million RSPCA NSW provided in

immediate aid to bushfire-affected communities

during the unprecedented bushfire crisis this year.

RSPCA NSW is also committing $2.4 million to a series of robust and long-term partnerships with wildlife organisations to protect and rehabilitate native animals across the state.

For more bushfire relief updates, visit the RSPCA NSW website.

Lort Smith
is applauding new laws on pets and renting. As of 2 March 2020, Victorian tenants wanting to incorporate a pet into their lifestyle can request their landlord's consent via the Consumer Affairs Victoria pet request form
here
.
[1]
Regardless of when a lease has commenced, landlords can now
not unreasonably refuse a tenant's request to allow a pet
. Lort Smith CEO, Fiona Webster welcomed the news as common sense.
"Melbourne is home to more than a million dogs and cats; and we know that animals are an important part of many families." There are over 29 million pets in Australia
[2]
and with Melbourne being home to more than a million dogs and cats alone, there's little doubt animals are part of the fabric of Victoria.
Located in North Melbourne,
Lort Smith
, Australia's largest not-for-profit animal hospital,
re-homes around 850 animals every year
.
CEO Fiona Webster with her rescue German Shepherd, Teddy
"Sadly, Lort Smith around
a third of animals are surrendered due to accommodation issues
. While Lort Smith will never euthanise an animal capable of being rehomed, others may not receive another chance." added Ms Webster.

At Lort Smith, staff regularly see local residents visit the adoption hub to spend time with the animals. They have found some even become volunteers, because they can't have pets at home and miss the valuable emotional connection of interacting with a cat or dog.



"The human-animal bond is very real and has huge impacts on the health and emotional wellbeing of people in the community," said Ms Webster.





Despite misplaced claims,

there's no reason to consider pet owners as bad or risky tenants

– in fact, the opposite is probably true.

"A well trained and properly cared for pet, with an attentive owner, will cause no more wear and tear to a residential property than a human," stated Ms Webster.



The new laws do not apply to pets already present before 2 March 2020. Prior to these changes there were no laws directly covering pets in rented homes.

Lort Smith is the largest not-for-profit animal hospital in Australia, delivering essential and life-saving services to sick, injured and vulnerable animals. Each year our team of more than 60 vets and 110 nurses provide quality care for around 25,000 animals. Lort Smith re-homes approximately 850 animals each year and operates a number of community outreach programs which have a significant social impact on the community. Lort Smith receives no ongoing government funding.
FEBRUARY 28, 2020
Western Sydney Dog Park Sets Tails Wagging